---
A-DNA
DNA model conformation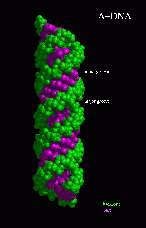 ---
Images
Structures
A-DNA
InsightII
MIDAS
WEBLAB
Location of the helix axis
In A-DNA the helix axis is located in the major groove side of the base pairs.
This is shown for the decamer D( GCACGCGTGC) structure (PDB/NDB code: 260d/adj075). The mono, stereo and VRML representations display in orange the helix axis calculated with the CURVES algorithm and in grey axes corresponding to the related principal axes of inertia. Only two base pairs are shown. More detailed information on the double helix geometry of this structure can be found on the helix analysis and bending pages.
Comparing A- and B-DNA
InsightII
Distance Plots
A-DNA
Comparing A- and B-DNA
---
COMMENTS

The coordinates were generated using INSIGHTII.
For the dodecamer the sequence is the same as for the Okazaki fragment (1ofx_ahj040, 169d).
---